CEO Blog
September 27, 2011
Take the survey, win an iPad 2. Craig from Morgan Stanley did!
We need your help shaping the future of Social Media for Financial Professionals.
Earlier this month we launched a survey asking financial professionals how they use (and would like to use) social media. I realized that the top advisors were busy doing their job and probably not too interested in taking surveys, so I decided to sweeten the deal by giving away an iPad 2 for every 500 completed surveys.
Well, I'm pleased to announce our first winner of an iPad 2. Criag Higham, an active linkedFA user from from Morgan Stanley Smith Barney in New York, participated in our survey and was rewarded with our first iPad 2.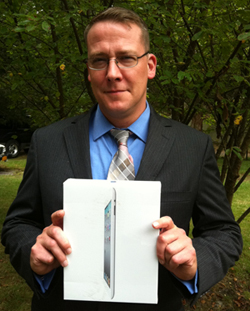 Craig Higham with his new iPad 2
I asked Craig to please send a quote and a photo with absolutely no direction except, "Please make it nice," and this is what he sent:
"I have found LinkedFA to be an invaluable resource networking with fellow FA's. I recently made a broker dealer move, and under any circumstance, this is an enormous change. In addition to facing many unknown variables, a Financial Advisor has to spend an extraordinary amount of valuable time researching options. LinkedFA made this process exponentially easier. I was able to network with other financial professionals that had similar challenges, and networking through LinkedFA offered me many terrific opportunities to meet valuable contacts face to face. In today's age, we are inundated with a seemingly overabundance of financial tools and social networking sites. LinkedFA is one to remember and one to utilize!"
Criag Higham
Financial Advisor
Morgan Stanley Smith Barney
I included this quote not just because it praises linkedFA, but because Mr. Higham is the personification of the benefits of social media. I must add that Craig was not with Morgan Stanley Smith Barney when he joined linkedFA, and he leveraged his network via linkedFA to make a career move. This is the true spirit of social media; being able to keep track of, manage and mutually benefit from the hundreds of relationships we develop every day. Great social media tools make it easier than ever to gain knowledge from peers, keep up with the latest trends, and better understand our clients and colleagues.
Being heavily regulated, the financial services industry faces steep challenges with regards to social media. Without a better understanding of how financial professionals use social media, regulators and software developers will drive the evolution of YOUR business. This survey is a great opportunity for YOU to take control and tell everyone how you use social media and how you want to use it moving forward.
I strongly urge you to take a moment and complete the survey for the benefit of the financial industry, not just for a new iPad. Just in case you still need more persuasion, we're still giving away an iPad 2 for every 500 completed surveys, so take the survey and invite your friends to as well.
Take the Survey or Learn More.
Comments (
1

)